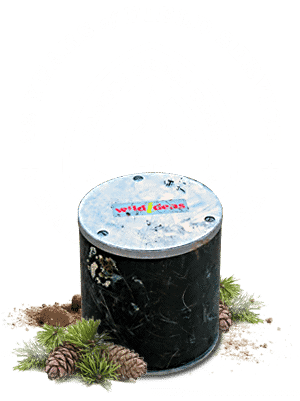 Bearikade Facts:
Bearikades are used by these and many other groups: National Park Service Rangers, Wildfire Fighters, Search & Rescue, U.S. State Department, Boy Scouts of America, Alaskan Hunting Guides
Bearikade food canisters have a very long life. We have monitored the health of the first 300 Bearikades issued to the NPS in 2000 and found them serviceable today.
Most Bearikade food canisters have been sold in North America, but they have also been shipped to: Japan, France, Belgium, Germany, United Kingdom, New Zealand and Australia.
Bearikades are proudly made in the USA.
The Best Designed Backpacking Food Canister. Period.
The Bearikade is a bear resistant container made of a lightweight carbon fiber composite sandwich. The Bearikade is easily opened by a human using the edge of a coin or other flat object such as a screwdriver blade. Animals, on the other hand, find it virtually impossible to open. The Bearikade is available in four standard sizes. The 14 ½" tall Expedition MKII which holds about 9 person days of food and weighs 2 lbs 4 oz. It can supply one for up to 12 days. The 12″ tall Blazer can supply a group of 3 for 3 days and weighs Weighs in at 2 lbs. If used as a personal unit, it can supply you for up to 9 days with efficient packing. The 10 ½" tall Weekender MKII, which will hold about 7 person days of food (2 people for 3 days and margin) and weighs 1 lb 15 oz. Finally our Scout standing at 8" tall, holds 5 person days of food and weighs just 1 lb 12 oz. We build Custom Size Bearikades in 1/8" increments between 8" and 18" tall. For some common questions you might have, please check out our Bearikade FAQs.
The Bearikade can be easily carried in all pack-types
Overview:

Enjoying and sharing the wilderness with permanent lodgers such as Black Bears requires the diligent backpacker to plan how to keep food, toiletries and other items with odors safely secured from these intelligent, inquisitive and strong neighbors. The Bearikade food canister was introduced in the 1999 season and has logged over 22 years of field service without loss of food to any wilderness animal. We believe this is the gold standard. The Bearikade has been used successfully throughout the lower 48 States, Canada and several Alaskan locations.
When a long day hiking is over, relax – use it as a camp chair.
New Features:

The Bearikade food canister introduced the use of the highest strength-to-weight ratio materials developed to meet aerospace requirements. The design geometry was chosen after reviewing thousands of questionnaires submitted to Park Officials by backpackers. The large opening answered the number one complaint that existing products had too small an opening. The external diameter is dictated by the design goal to keep Grizzly Bears from getting a jaw lock on the canister. O-ring seals make the unit moisture resistant and limit the broadcast of odor to a much smaller area. A lanyard is included in order to keep the hatch from being under foot or lost. The use of automotive/aircraft/watercraft quarter turn fasteners simplifies hatch removal without special tools (coin or washer is all it takes).
The Bearikade is handcrafted by aerospace engineer backcountry enthusiasts.
Construction:
The heart of the Bearikade food canister is the composite carbon fiber cylinder that is created using an offset seam, table rolling technique with proprietary consolidation materials. A long tooling mandrel holds the cylinder raw stock while curing in an autoclave at elevated temperature and pressure. Individual cylinders are then trimmed according to specification and that may include both standard and custom sizes. This flexibility allows Wild Ideas, LLC to meet the challenge of fitting the large number of backpacks offered by manufacturers.
High strength aircraft aluminum alloy 6061-T6 is used for the three metal parts: endcap (not removable), locking collar (receives the removable hatch) and the cover or hatch. A combination of automatic cutoff saws, Blanchart grinders, CNC milling machines and CNC lathes complete the desired geometry. The parts are then tumbled in a container with glass beads to remove all sharp edges.
High strength, two part adhesive epoxy is used to join the endcap and locking collar to the composite cylinder. Extreme care is taken in cleansing prior to bonding and all bonds are performed within hours of part cleaning. Service temperature of this structural adhesive is –67F to 180F.
High quality quarter turn fasteners are captured in the hatch with an E-clip to prevent loose hardware. A sealing o-ring is placed under the head of each quarter turn fastener. In addition, a large o-ring is rolled into a narrow groove on the top side of the locking collar. The canister is moisture resistant, but one should realize that Grizzly and Black Bears have a well developed olfactory system and can likely smell molecules that escape through the seals. The four seals work together to minimize the broadcast of odor outside the canister
Spring wire receptacles are riveted to the locking collar in position to mate with the fastener's locking ramp for a positive locking feel. A lanyard and its sheath are anchored to the locking collar and hatch in order to keep the hatch from falling under foot.
The Bearikade design improves the two most commonly described shortfalls of the competitor canisters:
1) Opening too small; and
2) Too heavy. The opening is 50% larger and the weight for similar volume is a full pound less than the low cost alternative.